Posted by Sonja Hoffmann on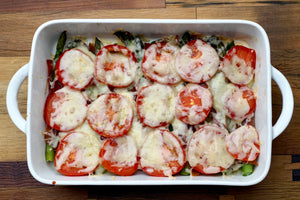 This recipe is brought to you by the Swiss Embassy, Swiss Culture from Home, early June 2023: June is also Spargelzeit (asparagus season), a pretty big deal in Switzerland, so we're sharing one way to prepare and enjoy asparagus the way the residents of the Swiss Canton of Valais do. It's quite common to serve your asparagus with ham, but the Valaisans serve their stalks with local air-dried country ham, tossing in tomatoes and some raclette cheese for good measure. If you don't have Valais country ham and raclette cheese at home, don't worry! Similar dried meats such as prosciutto...
Posted by Sonja Hoffmann on
You have this great idea to avoid the crowds and stay in for Valentines Day. You also thought of a romantic dinner for two with one of our candle light raclettes or with a raclette grill. But Valentines Day needs chocolate! What better way to end a romantic raclette dinner with a candle light chocolate fondue? Who doesn't like fresh strawberries, dipped in chocolate? Or try it with slices apples, raspberries, pieces of fresh pineapple, or sliced pears? And the best thing: It's super easy. Here is the recipe: Slowly melt 8 oz. of chocolate in a double boiler, while...